Proceedings, pictures, and attendance certificates will be issued in a couple weeks.
IFHIMA Immediate Past President Lorraine Fernandes passing the gavel to Vicki Bennett, IFHIMA President.
Professor Michael Kidd, Australia.  Opening Keynote.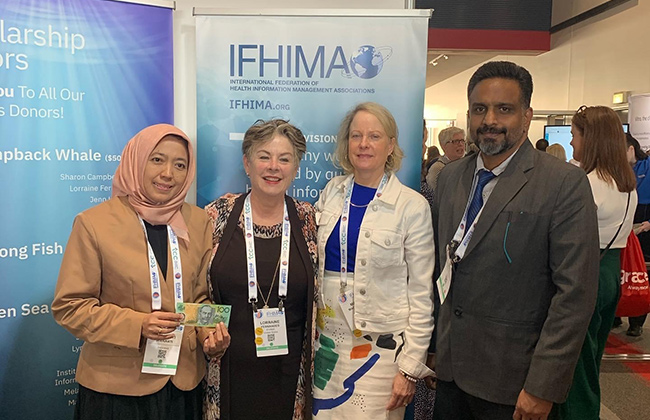 Irmawati Irmawati, Indonesia, Lorraine Fernandes, USA, Marci MacDonald Canada, and Dr Sabu Mandapam, India.  Dr Sabu and Irmawati were scholarship recipients.
Dr Yookyung Boo, Republic of Korea and Dr Sabu Mandapam, India.
Closing ceremony where Lorraine Fernandes presented Sallyanne Wissmann, CEO of HIMAA and Catherine Garvey, HIMAA President, a certificate of appreciation.
IFHIMA Board 2022-2025 at closing of 20th Congress.  Ahmed Alhatlan, KSA, Lorraine Fernandes, USA, Hosizah Markham, Indonesia, Guillermo Paluzie, Spain, Vicki Bennett Australia, Sharon Campbell Australia and Lynette Czarkowski USA.  Missing Babale Garba Nafada, Nigeria, Deneice Marshall Barbados, Marci MacDonald Canada. 
Teddy Chima, Malawi, Scholarship Awardee
Sallyanne Wissman, CEO of HIMAA, Opening Keynotes Professor Michael Kidd, Australia, and Dr Kidong Park, WHO Western Pacific
Lynette Czarkowski,USA,  Teddy Chia, Malawi, HIMAA Scholarship Awardee, Lorraine Fernandes, USA
Veronica Miller Richards, Jamaica, Jamane Sargeant, Barbados, Lorraine Fernandes USA, Guillermo Paluzie , Spain
Bring your talents, experience and ideas to IFHIMA! We're working together to provide a voice for HIM professionals around the world.
IFHIMA introduces personal perspectives on why our members attend Congresses.
​
Receive the IFHIMA newsletter, new whitepapers and event announcements.
Please welcome the Indian Health Information Management and Health Informatics Association (IHIIM) as a National Member of the Federation.
Read the latest stories from IFHIMA members around the world, including new publications and upcoming events.
Learn how IFHIMA works with the World Health Organization on projects related to health records and health information.
See the latest updates from each IFHIMA member region.

IFHIMA Tribute to Excellence Awardee.
Learn about IFHIMA corporate members that demonstrate a commitment to improving global HIM.