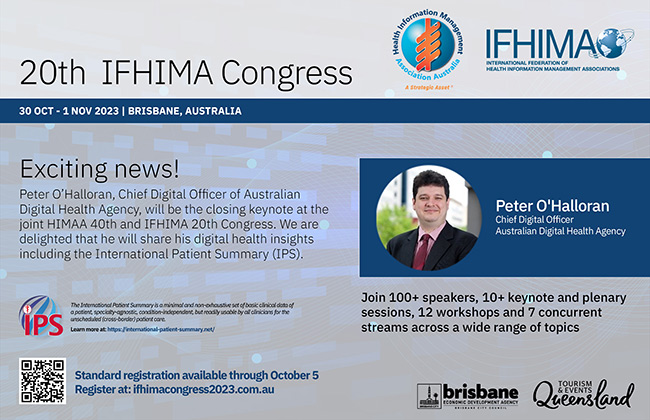 Standard registration open through early October.  Register Now!!
Register Here
"IFHIMA offers a treasure trove of information to the entire healthcare society. The
information provided by the Federation specifically aids HIM professionals in reaching their full
potential."
Yukiko Yokobori
Japan Hospital Association
Japan Society of Health Information Management
Bring your talents, experience and ideas to IFHIMA! We're working together to provide a voice for HIM professionals around the world.
IFHIMA introduces personal perspectives on why our members attend Congresses.
​
Receive the IFHIMA newsletter, new whitepapers and event announcements.
"Gaining an International Perspective on Health Information Management"-
Journal of AHIMA
Get to Know IFHIMA in Brisbane
Read the latest stories from IFHIMA members around the world, including new publications and upcoming events.
Learn how IFHIMA works with the World Health Organization on projects related to health records and health information.
See the latest updates from each IFHIMA member region.
20th Congress in Brisbane
Learn about IFHIMA corporate members that demonstrate a commitment to improving global HIM.